Baltic Domain Days 2023
NIC.LV kindly invites you to the only domain industry event focusing specifically on the Baltic region BALTIC DOMAIN DAYS 2023, held as a parallel track of the international cybersecurity conference CyberChess 2023.
The main BDD topics will cover DNS security, DNSSEC, domainers, domain squatters, data accuracy, the future of DNS, and other domain industry trends in the Baltics.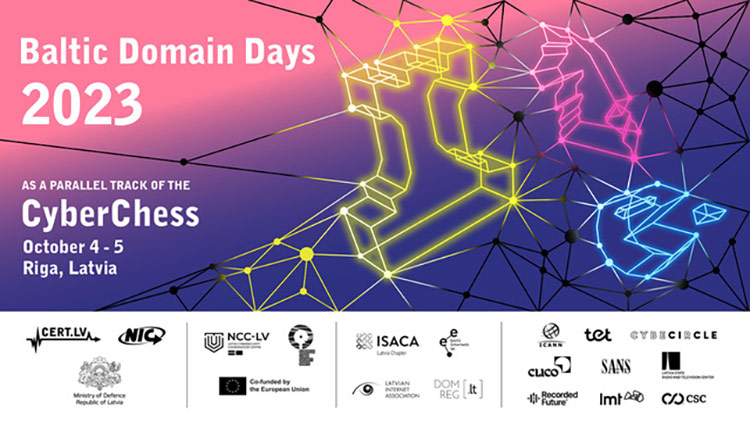 The conference will be held at the Radisson BLU Latvia, 55 Elizbetes Street, Riga, on 4 - 5 October. The conference program, speakers, and registration options can be found at https://cyberchess.lv .
Participation in the conference is free of charge. With a limited number of seats available on-site, be sure to register as soon as possible! Registration will be open until September 19th. The conference language is English.
Be prepared to:
• Get valuable insights - Listen to compelling keynotes by international industry experts in cybersecurity, domains, Internet Governance and infrastructure.
• Make meaningful connections - Network at a special lounge area with some of the brightest minds from the domain, cybersecurity and hosting industry - registries, registrars, resellers, entrepreneurs, ISP, IT security professionals, information systems auditors, researchers and others.
• Celebrate 30 years of .LV - This year Latvian national top level domain .LV will celebrate its 30th birthday! We will be happy to welcome you among our guests!
The conference is organised by CERT.LV, NIC.LV and the Ministry of Defence of the Republic of Latvia in cooperation with the ISACA Latvian Chapter, the Latvian Internet Association, Estonian Internet Foundation and DOMREG.LT.
The conference is co-financed by the European Union and supported by the Latvian National Coordination Centre of the European Cyber Security Competence Centre (NCC-LV), ICANN (Internet Corporation for Assigned Names and Numbers), SIA LMT, SIA Tet, Latvia State Radio and Television Center (LVRTC), SIA Cyber Circle, CSC Corporate Domain, SANS Institute, CLICO Baltics and Recorded Future.
See you at the CyberChess and Baltic Domain Days 2023!
Published 2023-09-11