Digital Marketing Workshop in Biržai
The citizens of Biržai, Rokiškis and Pasvalys who want to register a domain name, create websites and e-shops could get useful information at the digital marketing workshop in 8 July, 2020. This free event should be of interest to representatives of small and medium-sized businesses, farmers, folk artists and anyone who wants to create or improve websites and e-shops.
Event time: 2020 July 8 (Wednesday) 3 p.m.
Venue: Biržai Castle Arsenal Hall (J. Radvilos St. 3, Biržai).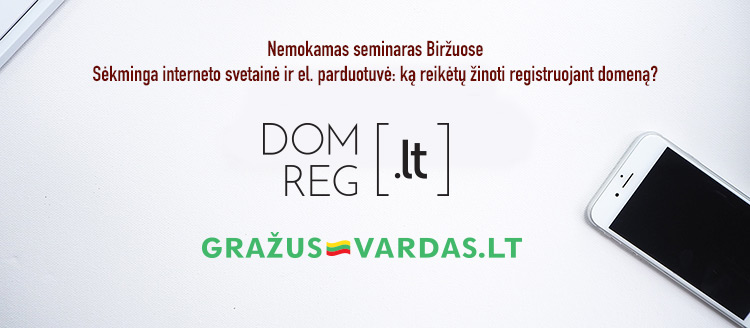 Program:
| | |
| --- | --- |
| 15.00 – 15.10 | Award of winner of the Most Beautiful Lithuanian Internet Name (IDN) competition - the domain sukįkaimą.lt Mayor of Biržai District Municipality Vytas Jareckas, Head of the Internet Service Centre DOMREG at Kaunas University of Technology (KTU) Daiva Tamulionienė. |
| 15.10 – 15.40 | Domain registration and creation of a website or e-shop: which aspects should be considered? Marketing and communication specialist at the Internet Service Centre DOMREG at Kaunas University of Technology (KTU) Vaidotas Jakuška. |
| 15.40 – 16.10 | How does a website help to test your business idea and attract early financing? Start-up marketing expert dr. Donatas Jonikas. |
| 16.10 – 16.40 | How does the website sukįkaimą.lt help business communities in the region? Chairwoman of the Rokiškis Local Action Group and Association "Suk į kaimą" Raimonda Stankevičiūtė-Vilimienė, President of the Biržai District Businessmen's Association Neringa Trinskienė. |
| 16.40 – 17.00 | Coffee break. |
| 17.00 – 17.40 | Demonstration of how to create a website yourself without programming knowledge. Checking and registration of domain name, selection of server registrar and DNS, management of server services, creation of a website or e-shop with WordPress CMS, customisation of design, creation and publication of SEO friendly content, attraction of consumers, testing and security of the website. |
Published 2020-06-29