Be careful: scammers attack .lt domain holders
The Internet Service Centre at Kaunas University of Technology – the registry of .lt top level domain – warns to be aware of the malicious people who try to persuade the domain holders to register the internet names in other top level domains (.com, .org, .net, etc.), even though it is not necessary.
According to the Head of the Internet Service Centre Daiva Tamulionienė, we are used to the stories about the scammers who trick old people by calling them on the telephone and making them transfer large sums of money. Unfortunately, elaborate methods of deception are also used online.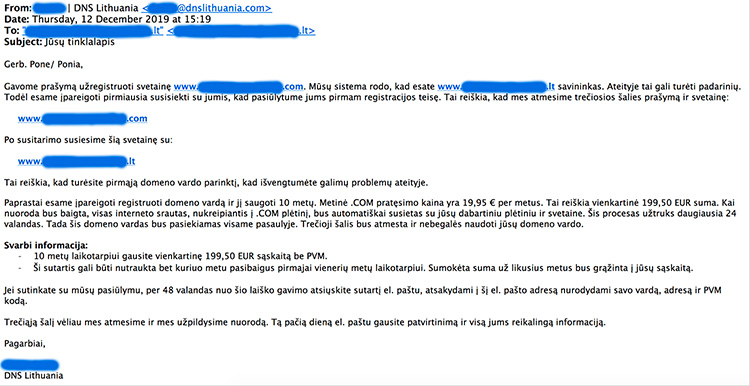 "Recently, the holders of .lt domains have been receiving emails from a non-existent company "DNS Lithuania", informing them about the persons allegedly wanting to create the same label in .com domain. The email offers to create the same internet name as the one in .lt domain, even though it is not necessary", - explains D. Tamulionienė.
The emails are sent from the domain name dnslithuania.com that was established only in November 2019. There is no company named "DNS Lithuania" in the Lithuanian Register of Legal Entities; therefore, it is recommended not to trust the persons who do not provide any data on their website.
According to D. Tamulionienė, the holders of the domains of other countries have also faced such fraud schemes. The same commercial offers were pressed upon the users in Belgium – on the website dnsbenelux.com, in Slovakia – dnsslovakia.com, and in Ireland – dnsireland.org.
"It is obvious that such an aggressive behaviour exhibits the signs of an unfair commercial practice and the persons who receive the above-mentioned commercial offers should be cautious and resist the pressure; if the emails are sent repeatedly, people should apply to the State Consumer Rights Protection Authority", – advises the Head of the Internet Service Centre.
Published 2019-12-17