Lithuanian National Cyber Security Centre launched a new fraud protection tool
To combat cyber threats, especially lightning-fast fraud attacks, the Lithuanian National Cyber Security Centre under the Ministry of National Defence (NCSC) in cooperation with the Internet Service Centre DOMREG at Kaunas University of Technology (KTU) have developed a new free tool for residents and organisations – DNS Firewall.
"The number of cyber fraud cases is growing every year. To help residents and organisations protect themselves, together with DOMREG we have developed DNS Firewall. It will prevent the devices from accessing malicious internet resources known to the NCSC. It means that even if the user clicks on a link sent by a scammer, that user will not be harmed, as the malicious address will be blocked, and the user will be notified about it," says Deividas Stumbras Director of the Cyber Defence Department at the NCSC.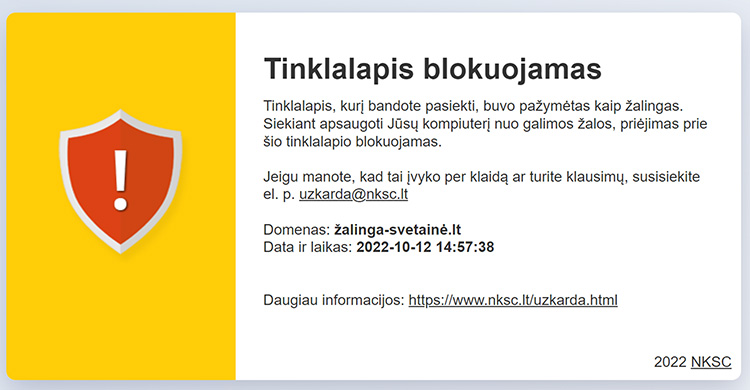 DNS Firewall is a public DNS service with an additional security function. The main difference from the standard Domain Name System (DNS) it is an additionally protection from such cyber threats as fake bank websites, fraudulent trading platforms, sites that distribute malicious code and other websites approved as harmful by the NCSC.
"The number of fake websites and misled internet users is increasing, which is why we support the idea of creating a DNS Firewall with an additional security function. The usual DNS infrastructure ensures that visitors of a website or e-shop see that website or e-shop when they type in the domain name. However, the DNS infrastructure is also used by fraudsters to falsify websites or distribute malicious software codes. Users of the DNS Firewall will not be redirected to such malicious websites and thus will be protected," says Head of KTU Internet Service Centre DOMREG Tomas Mackus.
"The NCSC collects daily statistics on fraud activity in Lithuania. By activating the DNS Firewall on their devices, users will be able to access the entire database of malicious websites collected by the NKSC and strengthen their protection," says D. Stumbras.
The new tool is free of charge and can be used by all Lithuanian internet users and organisations by activating specific settings on their devices. Instructions are available here (in Lithuanian): https://www.nksc.lt/uzkarda.html
The list of blocked internet addresses is constantly updated – the NCSC adds harmful addresses to the list, as well as removes those addresses that are no longer malicious.
The technological solution of the DNS Firewall was developed and implemented by the Internet Service Centre DOMREG at Kaunas University of Technology which is the registry of the .lt top-level domain and manages the associated DNS.
The NCSC and DOMREG will not collect information from the users who activate the tool or monitor the content they browse in any way; the system will only perform a security function by blocking the recognised malicious internet addresses.
The DNS Firewall tool is currently at testing stage and will be operational at the beginning of 2023.
Published 2022-10-20