The war in Ukraine has reduced the growth of .lt domains
The Internet Service Centre DOMREG at Kaunas University of Technology (KTU) reports that the growth in the number of .lt domains fell to just 0.5% in 2022, compared to 5.7% in 2021 and even 7.1% in 2020. In total, there were more than 226 000 second-level .lt domains registered at the end of 2022.
The Head of KTU Internet Service Centre DOMREG Tomas Mackus assures that the rapid growth in the number of .lt domains in 2020 was caused by the coronavirus pandemic; however, last year the number of registered .lt domains sharply decreased following the outbreak of war in Ukraine.
"The increased number of new domain registrations in 2020 and 2021 was driven by the Covid-19 pandemic, which led to businesses moving online because they realised they couldn't reach their customers otherwise. This was a massive move online.
Last year, geopolitical reasons led to a contraction of the domain market. The outbreak of the war in Ukraine caused companies to withdraw from businesses that were oriented towards the East. We had contact with some customers who said that their activities for the Russian market have been terminated because of the war, and therefore they no longer need a domain or internet address," – says T. Mackus.
According to him, the situation stabilised in the second half of last year. In 2022, a total of 37 000 new second-level .lt domains were created, but 35 000 were not renewed.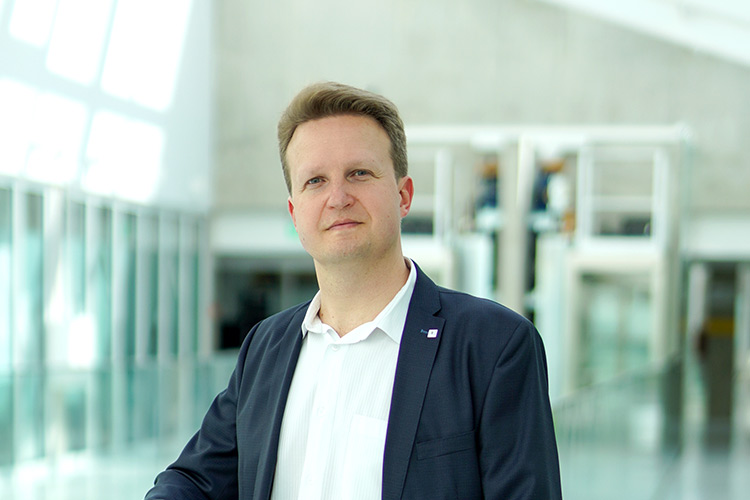 Tomas Mackus, Head of KTU Internet Service Centre
"We are witnessing the growth of the .lt domain again. It is not significant, but the number of registered .lt domains is growing steadily. I think that geopolitical changes sometimes bring new trends. For example, in 2022, the number of first-time, newly invented .lt domain names grew quite significantly. Whereas previously it was more common to re-register domain names that had been used before and subsequently became available, last year a record number of domains were created that had never been registered before. It shows that people were looking for originality and changes in economic conditions made them think about what brand-new businesses they could start and what new areas of activities they could try out.
I think that growth should not slow down, because even in emergencies when people lose their jobs, they can still try to create their own small business and start a new phase in their lives. Starting a business or new activities nowadays would be difficult without having an identity online, without an identifier for your activities or products. I believe that domains will always be used and registered because they help to create digital independence from specific electronic service providers. If you are not satisfied with the quality of service or the price of your current website host, you simply redirect the domain to the servers of another provider of your choice," – claims T. Mackus, Head of KTU Internet Service Centre DOMREG.
Even though the majority of .lt domains are used by legal entities, more than 97 000 domains are registered by natural persons. When asked about the purpose for natural persons to choose the Lithuanian national domain, the respondent says that many people want to have an email with their own unique address. Moreover, many business domains are registered in the name of natural persons.
"Some individuals use domains for their own personal purposes, for example, having an email with their domain. You are then independent of the email box service provider and have the freedom to change your service provider. Your email address does not change as a result, unlike, for example, a Gmail email address to which you are "tied" and cannot change it since you are dependent on Google.
Even some legal entities or companies create domains in the name of natural persons. It is natural because often the founders of a company register a domain before the establishment of the company aiming to protect a label or business identifier online. As the establishment process is still in progress, they cannot register the domain in the name of a legal entity; therefore, they register it in their own personal name as owners or shareholders of the company.
It is a usual practice for domain registration at the beginning of a business when a legal entity is not established yet, but they want to register the domain in advance so that no one else could use it. But when it is time to renew the domain a year later, when the legal entity is established, it would be fair to transfer the domain to that legal entity.
Shareholders or directors change, and if the person who created the domain is no longer connected to the company, there is a significant risk that the company will no longer be able to use its domain because it is not registered in its name and disputes or formal actions of the domain holder may cause malfunctions of the domain," – explains T. Mackus, Head of KTU Internet Services Centre DOMREG.
Currently, the .lt domain procedural services are provided by 119 accredited registrars, of which 62 are Lithuanian and 57 foreign registrars. KTU Internet Service Centre DOMREG is the registry of the .lt domain; its main tasks are the management of the .lt domain infrastructure and ensuring the functioning of the Domain Name System (DNS) online.
Published 2023-02-24