Registries gathered in Lithuania
The 40th general assembly and the 17th meeting of the administration group of the association of European country code top-level domain name registries (CENTR) took place in Vilnius on 30 September - 2 October 2009. The event was organised by CENTR (located in Brussels) and DOMREG division of Kaunas University of Technology providing the administration services to .lt domains.
80 experts from 27 countries participated in the assembly in Vilnius, including the representatives of the European Commission, the organisation ICANN supervising the internet structure, the organisation EURID administrating .eu domains, the certification company "Verisign", the group "EuroISPA" representing the European internet service providers.
According to the organisers, the objective of the meetings organised three times per year in various countries of the world is to exchange information, share experience and learn about the latest information technologies applied to the administration of domains. Chairman of the Board of Directors of "CENTR" Andrzej Bartosiewicz emphasised that currently the focus is on the security of Domain Name Server (DNS).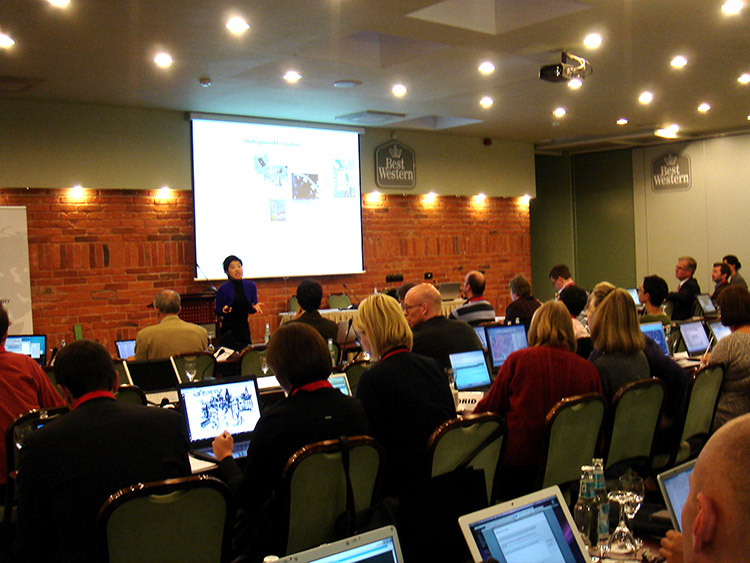 ICANN representative Yurie Ito introduced the latest solutions for DNS security problems
The events included the discussion on the most relevant issues of the domain administrators, the search of the most efficient solutions, the presentation of the news of subdomain administration, operational strategy and budget for 2010. The latest solutions of the security problems were presented by ICANN representative Yurie Ito, the Swedish expert Anne-Marie Eklund-Lowinder shared the experiences of her country. Representatives of Scandinavian, Western and Central Europe shared their experience of customer service.
Participants were welcomed by the presentation on the administration of .lt domains given by the Head of DOMREG at KTU ITPI Daiva Tamulionienė. According to her, the system of the client services of the Lithuanian .lt domains will be improved; the next project is unification of the discount system for the registrars. The system for distribution of the calls among the employees with a possibility of recorded calls is being developed for the improvement of the quality of client services. Moreover, the registry of the Lithuanian domains DOMREG division at KTU ITPI is one of the global pioneers providing a possibility for its customers to register the domains with diacritics.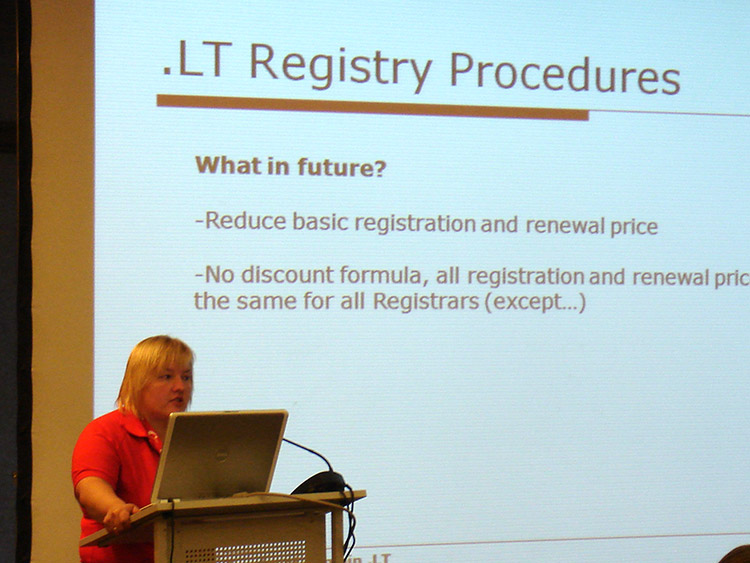 The head of DOMREG division at KTU ITPI Daiva Tamulionienė is giving her presentation
Even though Lithuania welcomed its guests with an unexpectedly cool weather, the team of DOMREG division at KTU ITPI made sure to provide them with an interesting cultural program. The guests had an opportunity to taste didžkukuliai (traditional Lithuanian dish of stuffed potato dumplings). The evening at "Stikliai" inn included the performance of the folk music band Sutaras with traditional music, introduction of traditional Lithuanian crafts, and presentation of folk games with participation of the guests. The guests had an excursion in Vilnius (the city titled the European Capital of Culture of the year). They could see the most impressive churches of Vilnius, enjoy the architecture of the old town and acquire the souvenirs made of amber.
Published 2011-11-01