Create domain and win an iPad!
On the occasion of 30th anniversary of .lt domain we invite you to register a .lt domain name and participate in the game! You can win "Apple iPad 10.2" tablet by creating a second-level .lt domain in 2022 June.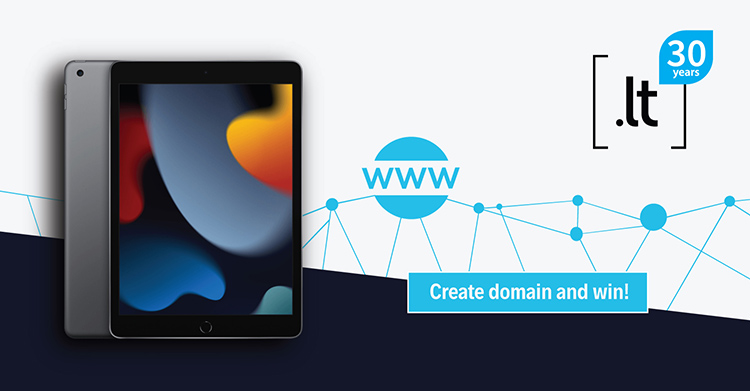 How to participate?
Create .lt domain for a website, blog or email. It can be done via any Lithuanian or foreign registrar: https://www.domreg.lt/en/registrars/
Participants of the game – all .lt domains created from 2022 June 1 00.00 until 2022 June 30 23:59.
The winner domain holder will be drawn and awarded the prize.
Provisions of the game "Create domain and win":
Organizer of the game – Kaunas University of Technology, Internet Service Centre (www.domreg.lt) – the registry of .lt top level domain.
Prize to the winner of the game – tablet "Apple iPad 10.2", Wi-Fi, 64GB, Space Gray (2021)"
The registration of the game objects begins on 2022 June 1 00.00 until 2022 June 30 23:59.
The game objects include .lt second level domain names created within the specified period, except for the ones that are included in the list of blocked labels. Domain names identify .lt second level domains that undergo the procedures of suspension, deletion, domain trade, cession, succession, creation from "quarantine" within the specified period have not been considered as game objects.
The participants are the holders of the domains which names are the game objects, except for Kaunas University of Technology, it's employees and domain holders from sanctioned countries.
The winner is drawn and announced on the website www.domreg.lt and social media accounts managed by the organizer of the game.
Prize will be sent to the winner by registered mail according to their place of residence (for natural persons) or place of registration (for legal persons) within the EEA. If the winner of the game does not agree to accept the prize within 15 calendar days from the date of public announcement of the results and e-mail notification, it is considered that the winner has refused the prize.
Published 2022-06-01