Do Estonians live better because of digital services?
Estonians have almost twice the amount of the internet names per thousand citizens in comparison to Latvians and almost one and a half times more than Lithuanians. Estonians surpass Lithuanians and Latvians according to the number of national .lt, .lv and .ee domains per thousand citizens.
According to the data of the Association of European Country Code Top-Level Domain Name Registries CENTR, at the beginning of 2019, Lithuanians have had 289 thousands registered domain names, Latvians – 162 thousands and Estonians – 189 thousands. However, according to the domain name per person, Estonia is the leader in the Baltic States; it has 138.5 domains per thousand citizens. A thousand of Lithuanian citizens has 103.5 domains and Latvian citizens have only 84.4 domains.
Similar trends are evident only with regards to the scope of the registration of the national .lt, .lv and .ee domain names per thousand citizens. Even though Estonian natural persons and legal entities have had 102 thousands of registered .ee domain names at the beginning of 2019 and were behind Lithuanians who have registered 168.6 thousands .lt domain names, according to the national domain number per thousand citizens, Estonia has surpassed Lithuania; it has 74.7 domains, while Lithuania has 61.5 and Latvia has 50.6 domains per thousand citizens. It is obvious that Latvian natural persons and legal entities have registered the amount of .lv national domains (97 thousands) similar to the amount of Estonian .ee domains (102 thousands); however, they are significantly lagging behind Estonia and Lithuania in terms of the use of domain names.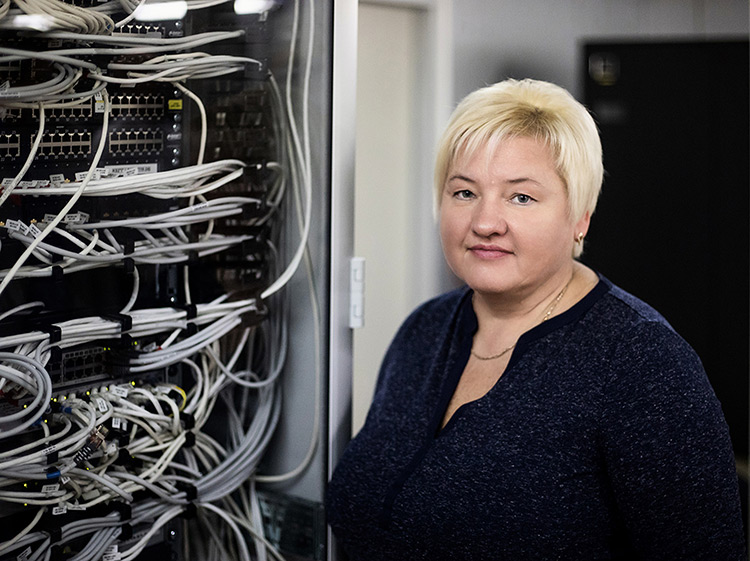 Daiva Tamulionienė, Head of KTU Internet Service Centre DOMREG
Estonia is driven forward by digital services
According to the head of the Internet Service Centre DOMREG at Kaunas University of Technology (KTU) Daiva Tamulionienė, the fact that Estonians are significantly more active in the registration and use of domain names is related to the successful experience of Estonia while introducing information technologies (IT) in practically all areas of life.
"The habits of the Estonian people and businesses have changed due to the particularly active development of electronic services at the national level. We have to admit that the life of Estonians has improved with the help of the internet and high-quality electronic services that they got used to using: there is no necessity to use printed documents, it saves time, facilitates more efficient management of business processes, creation of higher added value and increase of salaries.
The developed digital services make the country more competitive; therefore, it is not surprising that Estonians realise that domain is an integral part of both, business and personal life. After getting used to use digital public services, businesses and people of the country digitise other areas of life, stop using the printed bureaucracy; therefore, they are more active in the registration of domain names and their use for the establishment of e-shops, websites, information systems, vlogs or choose to use more convenient and representative email with their domain name instead of the free email", – says D. Tamulionienė.
Living in Estonia is easier and more comfortable
Member of the board of the Lithuanian Community in Estonia Justina Pajus has lived in Estonia for 7 years while she and her husband spend their summers in Lithuania. The Lithuanian works for an Estonian energy company that has branches in Lithuania and Latvia and she is interested in information technologies. Justina has noticed the differences in salaries, as well as the fact that living in Estonia is more comfortable and of higher quality.
"Salaries and student scholarships are higher in Estonia. Traffic is much more convenient in Tallinn with the use of a green card that provides free public transportation to all the citizens of Tallinn. Maybe it does not resolve the problems of traffic jams and pollution but it is very convenient for the citizens of Tallinn. Tallinn's green transportation card is scanned on the bus, so people do not have to use paper tickets. Estonia has tried to replace all the printed documentation by electronic one for a while now; it is a very important part of the state policy", – tells J. Pajus who has visited "Baltic Domain Days", the event in Tallinn focused on the discussions about the internet development and domain market trends in the Baltic States.
According to J. Pajus, the state, private businesses and Estonian citizens foster IT services which they find fascinating because of the fast and easily accessible internet, digital life and convenience of electronic services.
"All the public services are available online with a digital Estonian ID card. Even the banks trust ID card, therefore, Estonia does not use e-banking code cards anymore; they are not very safe, however, they are still used in Lithuania. Moreover, a digital ID card of the Estonian citizen can be used in shops as a loyalty card, businesses do not need to create additional loyalty cards and buyers do not need to carry many different cards. I have an electronic Estonian ID card and live in Estonia; I can participate in the Estonian municipality elections and vote online. I have already voted online several times and I am glad to have such a possibility", – J. Pajus shares her experience of the use of the electronic Estonian ID card.
National domains are most popular in the Baltic States
The experts at the conference "Baltic Domain Days" in Tallinn note that the biggest number of domains is registered for the provision of various electronic services and national .lt, .lv and .ee domains remain the most popular, even though .com and .eu domains take a significant share of the market in the Baltic States.
The head of the Estonian internet foundation which is .ee registry Heiki Sibul notes that domain market is distorted by investors who register domain names aiming to get profit by reselling them later.
"There are many so-called domain dealers who register good, marketable names but only keep them instead of using them. This is a problem not only in the Baltic States but also in other domain registers", – says H. Sibul.
The head of the Network Solutions Department of the Institute of Mathematics and Computer Science, the University of Latvia which is .lv registry Katrina Sataki thinks that the use of domain provides more value than a good, memorable name that can be occupied for years and not used.
"It is a real problem when a business wants to register and a good name is occupied. It is even worse when domain names are registered using the appropriated trademarks or misleadingly similar labels. Therefore, cybersquatting costs twice as much. However, the most valuable domain name is the name that is used. How many of 25 million registered .tk domains are used? Not many", - summarises K. Sataki.
Not only national domains are registered
Lithuanian companies tend to choose and use one domain name, leaving vacant the names in other domains and not registering the same .lt domain names with specific Lithuanian letters. According to J. Pajus, Estonian companies are more prudent; they protect and value domain names more by registering more options. Estonian entrepreneurs are also more concerned with intellectual property and trademark protection in comparison to Lithuanian and Latvian entrepreneurs.
"Most of the Estonian companies have registered and use .ee, as well as .eu domains because they focus on the common market of the European Union. The company I work for develops its business in all three Baltic States, therefore, we use .eu domain, even though we have also registered national .lt, .lv and .ee domains. "The Lithuanian Community in Estonia unites the Lithuanians living in Estonia, therefore we have only chosen .ee domain and develop the website www.lietuviai.ee for the Lithuanians in Estonia. The businesses working in the Estonian market act in the same manner, primarily choosing .ee domain", – says the member of the board of the Lithuanian Community in Estonia.
Have Estonians managed to reach a higher level of economic prosperity due to their developed electronic services and more intense IT introduction in all the areas of life, or was it a result of other factors?
"Sometimes I say that "still waters run deep". It is in particular accurate when speaking about Estonians who are quiet and work persistently; Lithuanians are more like Spanish, they talk a lot but do not do much. Sometimes it is said that the source of the Estonian economic prosperity is the investments from Finland but this factor is overrated. I do not think it is right to say that Estonians live better because Finnish come to Estonia to buy alcohol because alcohol sales have a minimum impact on the economy. The secret of the Estonian economic prosperity is the combination of their persistent work and developed IT; fast internet and electronic services facilitate more efficient work, higher salaries and more comfortable life", – summarises J. Pajus.
Published 2019-05-13